G1 Therapeutics to Participate in the H.C. Wainwright 25th Annual Global Investment Conference
September 5, 2023 at 11:00 AM EDT
RESEARCH TRIANGLE PARK, N.C., Sept. 05, 2023 (GLOBE NEWSWIRE) -- G1 Therapeutics, Inc. (Nasdaq: GTHX), a commercial-stage oncology company, today announced that G1's Communications Officer Will Roberts will provide a corporate presentation on September 12, 2023, at 9:30 AM EDT during the H.C. Wainwright 25th Annual Global Investment Conference.

The webcast of the event will be accessible on the Events & Presentations page of http://www.g1therapeutics.com.
About G1 Therapeutics
G1 Therapeutics, Inc. is a commercial-stage biopharmaceutical company focused on the development and commercialization of next generation therapies that improve the lives of those affected by cancer, including the Company's first commercial product, COSELA® (trilaciclib). G1 has a deep clinical pipeline and is executing a development plan evaluating trilaciclib in a variety of solid tumors, including breast, lung, and bladder cancers. G1 Therapeutics is based in Research Triangle Park, N.C. For additional information, please visit www.g1therapeutics.com and follow us on Twitter @G1Therapeutics.
G1 Therapeutics® and the G1 Therapeutics logo and COSELA® and the COSELA logo are trademarks of G1 Therapeutics, Inc
Contacts:
Will Roberts
Communications Officer
Vice President, Investor Relations & Corporate Communications
919-907-1944
wroberts@g1therapeutics.com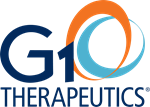 Source: G1 Therapeutics